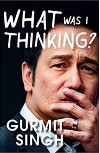 What Was I Thinking?
By Gurmit Singh
If Phua Chu Kang's yellow boots and permed hair are all you know about Gurmit Singh, you need this book.  The actor, host, singer and now entrepreneur, shares not just his funny moments in life but also bares his personal moments in What Was I Thinking? and proves that the funnyman image is just one of his many Real facets.  Read about the first car he drove as a child, the neighbour with the EYE, the rat that almost ate his finger when he was a baby, how he dealt with the loss of his parents and many more stories.  Caution: This is how-to book on being a better entertainer, but you will walk away with a better understanding of this man.
Gurmit is also a Christian who is passionate about his family.  He is happily married to Melissa and they have three children.