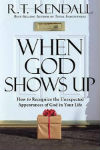 When God Shows Up
by R. T. Kendall
You Need God…
You've Asked for His Help…
Will You Recognize Him When He Comes?
There is no question that God shows up in our lives in unexpected ways and at unexpected times.  He's shown up in earthquakes, wind, and fire–and always when we need Him most.  
But the truth is, we don't always notice His presence.  If God doesn't have our attention, or if we are clinging to preconceived notions about what His presence will look like, we can completely miss seeing Him before our eyes.
In When God Shows Up, R. T. Kendall presents the life-transforming principles he learned when he encountered God through his own unexpected spiritual experiences.  Learn to see Him when you face life's trials, cope with temptation, and face disruptions of every kind–even when you encounter the devil himself.
God is showing up today! He's revealing Himself and manifesting His power in remarkable and amazing ways–it is time for you to experience His arrival.  Are you ready to see Him?