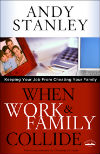 When Work & Family Collide
By Andy Stanley
Is Your Occupation Also Your Preoccupation?
Let's face it. With all the demands of the workplace and all the details of a family it's only a matter of time before one bumps into the other.
And many of us end up cheating our families when the commitments of both collide. In this practical book, Andy Stanley will help you …
– establish priorities and boundaries to protect what you value most.
– learn the difference between saying your family is your priority and actually making them your priority.
– discover tested strategies for easing tensions at home and at work.
Watch as this powerful book transforms your life from time-crunching craziness to life-changing success.
Includes a four-week discussion guide.