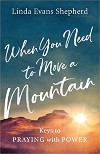 When You Need To Move A Mountain
By Linda Evans Shepherd
There's prayer – and then there's intercessory prayer.  What's the difference?  How do we know when intercessory prayer is called for?  And even if we feel the call to pray boldly for ourselves or others, how do we do it?  What do we say?  And what response should we expect from God?
In this practical and encouraging book, Linda Evans Shepherd explains what intercessory prayer is, how to pray as an intercessor, and how to experience victory.  With chapters devoted to praying for family, others, provision, health, breakthroughs, salvation of loved ones, church, community, country, and more, you'll quickly find the specific help you need to pray for the needs close to your heart.  You'll also learn how to develop your own intercessory prayer battle strategy and to celebrate each victory with thanksgiving.
If you're someone with a deeply felt need to pray for others, to bring your burdens and troubles to God, and to see God's clear answers to your prayers, this book is for you.