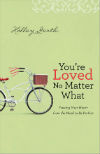 You're Loved No Matter What
By Holley Gerth
As women, we tend to think that if we could only get our act together, life would be perfect.  But you're not supposed to be perfect.  You're supposed to be human.  And humans are messy, flawed, glorious, and deeply loved.
–  It's time to lay down those unrealistic expectations that exhaust you.
–  It's time to embrace who you are – even the messy parts.
–  It's time to start living fully instead of just trying not to fail.  
Let's do this.  Together.
How would your life be different if you truly believed you're loved just as you are?  Bestselling author Holley Gerth shares how God wants to set our hearts free by revealing the lies we believe as well as the scandalous grace and acceptance offered to us instead.  She helps us lay down our unrealistic expectations so we can embrace who God created us to be, pursue his purpose for our lives, and offer others the love we've been freely given.