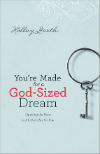 You're Made for a God-Sized Dream
Opening the Door to All God Has for You
by Holley Gerth
Hello, you…  The one looking for more purpose and listening for God's plan.  Here's what that restlessness is really all about: there's a God-sized dream knocking on the door of your heart.  Before you think that sounds too big, let me assure you, God-sized dreams aren't really about size at all.  They're about the desires God places within you that perfectly fit your heart.  God-sized dreams are an essential part of who you're created to be and what you're called to do.  They lead to more meaning, joy, and connection with the One who gave them to you.  In the busyness of life, it's easy to ignore them or let fear shut them out.  But this is your moment.  Now is your time.  The "more" your heart is longing for has been there all along.  Let's open the door to all God has for you together.
With this life-changing message, Holley Gerth invites you to discover the dreams God has given you – and then dare to pursue them.  She takes you by the heart and says, "Yes! You can do this!" and guides you forward with a loving hand.  Along the way, she provides insightful questions and offers action plans that will help you take the next steps toward making the deepest desires of your heart a reality.