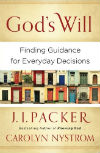 SPECIAL PROMO: RM24.90
God's Will
by J.I. Packer & Carolyn Nystrom
How do I know God's will for my life?
We face decisions every day–some big, some small.  As Christians, we want to submit the choices we make to God's will.  Unfortunately, for many people the process of discerning God's will has become fraught with fear and confusion, leading to such questions as: Does God really guide us?   If so, how?  How will I know when he does?  What if I make a mistake?
In this biblical and practical exploration of divine guidance, you'll find solid foundations for understanding how and why God guides his people.  Discover the role of Scripture, discernment, wisdom, the counsel of others, and the Holy Spirit in helping you discover God's will.
A helpful study guide for individual or group use is included.
J. I. Packer is Board of Governors' Professor of Theology at Regent College in Vancouver, British Columbia, and a member of the editorial council for Christianity Today.  He is the author or editor of more than fifty books, including the bestselling classic, Knowing God.
Carolyn Nystrom is a freelance writer and coauthor of Is the Reformation Over?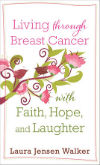 SPECIAL PROMO: RM5.90
Living Through Breast Cancer With Faith, Hope and Laughter
by Laura Jensen Walker
Cancer isn't funny.  But humor is healing.
When Laura Jensen Walker was diagnosed with breast cancer on her first wedding anniversary, she found laughter to be healing in the midst of terrifying circumstances.   In fact, she couldn't have gotten through without her sense of humor.
Infused with strength and dignity, this uplifting and uproarious approach to a most serious subject will show women confronting the disease – and those who love them–that faith, hope, and a healthy dose of laughter can make all the difference.  Previously published under the title Thanks for the Mammogram!
Laura Jensen Walker is a woman who approaches life with a sense of humor.  She is the author of many books, including several novels.  She lives in California.