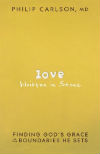 SPECIAL PROMO: RM19.90
Member's Discount 10%
Love Written in Stone
by Philip Carlson, MD.
Sometimes the Bible's instructions seem legalistic or even obsolete.  But what if these laws are evidence that God cares?  What if the ancient truths in the Bible actually show us the way to a healthy life, the kind of life we are looking for?
As both a pastor and a medical doctor, Philip Carlson brings a unique perspective to the connection between following God's guidelines and wellness in our lives.  As he demystifies God's expectations regarding family relationships, nutrition, sexuality, the environment, and more, Carlson's conclusions – backed up by recent research – may surprise you.  Here is your invitation to see how God desires your greatest good.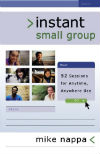 SPECIAL PROMO: RM14.90 
Member's Discount 10%
Instant Small Group
by Mike Nappa
It's been a crazy day at work, the house is a mess, and you have nothing in the refrigerator and you're hosting your small group tonight.  How can you possibly get a lesson ready in the midst of your chaotic life?  Easy.  Just open Instant Small Group.  This no-preparation- required teaching resource provides a year's worth of engaging, transforming, and easy to lead discussion guides for adult small groups.
All 52 studies are open and go for those who, for whatever reason, don't have the time or energy to prepare.  They can be used by anyone in the group – not just the leader – and are perfect for road trips, retreats, coffee house conversations, or even as personal devotionals.  Bonus callouts with discussion specific teaching tips, brief Bible background information, and add-on ideas are included, as well as an appendix titled 20 Tips for Dynamic Discussions.