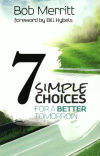 SPECIAL PROMO: RM19.90 NETT
7 Simple Choices for a Better Tomorrow
By Bob Merritt
Life is hard – for everyone.  No matter how blessed or fortunate you might be, there is a level of difficulty to your life: hard classes, jobs, relationships, and losses.  But by following seven basic life disciplines, anyone can experience accomplishment, freedom, and ease in navigating through life's daily challenges.  In this positive, insightful book, veteran pastor Bob Merritt describes a set of universal principles that can work for everyone in every stage of life, showing that what you do today determines who you become tomorrow.
"The life disciplines in this book will lead readers away from failure and regret to accomplishment and ease–not easy, but ease in getting 'out of the boat' and on with navigating through life's daily challenges." – John Ortberg, author, The Me I Want to Be
"Here's your breakthrough – insightful, practical, biblical wisdom that can turn your life around!"–Lee Strobel, author, The Case for the Real Jesus
SPECIAL PROMO: RM24.90 NETT 
Reckless Faith
By Kevin G. Harney
Embracing a Life Without Limits
In a world where we tend to be over-cautious about, well, nearly everything, it's no surprise that our obsession with safety can carry over to how we live our faith in the world.  But it's always been risky to follow God, and Kevin Harney believes we are missing a vital part of our faith when we play it safe.
In this energizing book, he challenges readers to count the cost, take a chance, and live a reckless faith for the entire world to see.  With a focus on "responsible recklessness," Harney shows readers how to develop a faith that others notice, always supported by prayer, wisdom, the direction of Scripture, and insightful counsel from other believers.  He outlines how to be reckless in our love, generosity, service, relationships, prayers, and speech.
Perfect for pastors, small groups, or anyone who is tired of feeling domesticated and docile, this book will lead readers into a fresh devotion and dynamism in their faith.