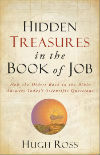 SPECIAL PROMO: RM25.90 NETT Hardcover
Hidden Treasures in the Book of Job
By Hugh Ross
Arguably the oldest book in the Bible, the book of Job has a surprising amount to say about some of the newest scientific discoveries and controversies.  Far from a book that is just about suffering, Job is filled with rich insight into both ancient and modern questions about :
•  the formation of the world
•  the difference between animals and humans
•  cosmology
•  dinosaurs and the fossil record
•  how to care for creation
•  and more
With careful consideration and exegesis, internationally known astrophysicist and Christian apologist Hugh Ross adds yet another compelling argument to the case for the veracity of the biblical commentary on the history of the universe, Earth, life, and humanity.  Hidden Treasures in the Book of Job shows that the Bible is an accurate predictor of scientific discoveries and a trustworthy source of scientific information, and that both the book of Scripture and the book of nature are consistent both internally and externally.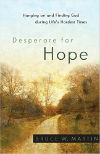 SPECIAL PROMO: RM19.90 NETT
Desperate For Hope
By Bruce W. Martin
There is hope after life falls apart.
A single phone call can change your life:
–  There's been an accident.
–  You have cancer.
–  The company's downsizing.
–  Your spouse wants out.
All of a sudden everything spins out of control.  At some point, we've all felt painful loss, bitter disappointment, embarrassing failure, unthinkable betrayal, and the seeming randomness of suffering.  Some of us have faced death. Sometimes it all happens at once.  And we have quietly wondered (or maybe even screamed), "Why is this happening to me? Where is God in all of this?"
The answer may surprise you.
Wth sincere sympathy and ready encouragement, Bruce W. Martin takes you through a grieving process that will help you reconcile your deep suffering with your beliefs about God.  A unique and compassionate take on the age-old question of suffering, this book is for anyone who has experienced life-shattering pain.