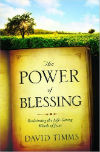 SPECIAL PROMO: RM19.90 NETT 
The Power of Blessing
By David Timms
Words – positive or negative – carry enormous potential to create or destroy. It's always been that way, ever since God said, "Let there be . . ."  Pastor and Bible professor David Timms explores the timeless words of Jesus in the Beatitudes and takes you on a journey into the extraordinary world of blessing.  Discover how to use words to heal rather than wound and how to bless others more effectively.  Learn how to be blessed and be a blessing to others.  You'll find that Jesus' ancient words still bring incredible hope and healing amid the heartaches so many feel today.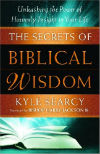 SPECIAL PROMO: RM19.90 NETT
The Secrets of Biblical Wisdom
By Kyle Searcy
When facing life problems, Christians ask God for help, for blessings, for miracles, for intervention.  Rarely do they ask for the one thing that can solve the majority of their problems: wisdom. While wisdom is valued, it is rarely sought after.  It is attributed to Solomon and relegated to Old Testament days.  Yet the Bible tells us that wisdom is still calling us today (Proverbs 8:1). Kyle Searcy, respected leader and pastor, has experienced the favor and blessing of wisdom in his own life.
Here he shares the secrets to unlocking the power of wisdom, guiding believers along the path of acquiring and harnessing spiritual wisdom.  Through personal examples, stories, Scriptures, and biblical examples, he shows how possessing wisdom produces, among other things, favor, special skills, and wealth.  Each chapter ends with practical actions to assist readers in pursuing wisdom and enjoying its benefits in their personal situations